Statement in Support for Andreas Georgiou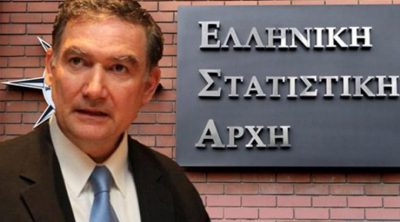 On 16 May 2018, the Greek Supreme Court annulled Andreas Georgiou's acquittal by the Appeals Court Council for the alleged felony crime of inflating the 2009 fiscal deficit figures and causing "extraordinary" damage to the Greek economy, which according to the charges amounted to 171 billion euro (about 200 billion USD). If convicted of the alleged crime, Andreas Georgiou can be punished with life in prison. 
 This is the second time the Supreme Court has annulled an acquittal decision of the Appeals Court Council, which is quite extraordinary in itself and, in the view of many legal experts, unprecedented. Furthermore, before the initial acquittal in 2015-16, there were two proposals for acquittal, by an Investigating Judge (in 2013) and by a Prosecutor (in 2014), that also were not accepted. It is therefore extremely troubling that the Supreme Court continues to dismiss the considered verdicts and judgements of its competent courts and investigators.  It is all the more so since the fiscal deficit statistics at issue, and the methodology underpinning them, have been repeatedly validated by Eurostat as fully conforming to the highest harmonised statistical standards set for the production of these statistics throughout the European Union. 
Indeed, the methodology and figures are also accepted by the Greek Authorities and have been consistently used by successive Greek Governments since 2011 in requesting international financial assistance. Actually, the same methodology and figures are being used these days for requesting the final disbursement of about 12 billion euro to Greece under the final stage of a bailout that since 2010 has amounted to over 270 billion euro. The same methodology and figures are also currently being used by Greece to ask for significant debt relief for the debt incurred under this largest bailout in history.  
The EU Commission, the ECB and the IMF, as funding partners, have also fully accepted the figures as the basis for providing assistance since the end of 2010, for considering debt relief to Greece, and for monitoring the performance of the Greek economy.  
Commentators are increasingly stating openly that political factors are driving this prolonged prosecution of Andreas Georgiou to serve interests of political forces within Greece and that it will be maintained until the "right" decision is achieved. Such perceptions are very damaging for the Greek judicial system and for Greece in general, its democracy and its hoped for economic recovery.
Along with Andreas, two of his former work colleagues are also facing a similar situation. For all of them, this is a gross abuse of their human rights. This situation, which has dragged on since 2011, has caused them and their families considerable stress when they were simply doing their job with the integrity expected of senior official statisticians. We are advised that it is likely to be another 1-2 years before there is even a decision whether they will have to face an open trial. 
The relentless prosecution of Greek official statisticians for actually following European statistical law and international statistical principles cannot but have a very damaging effect on the capacity of current and future official statisticians in Greece to produce reliable official statistics with independence and impartiality.   
For all the above reasons, the international statistical community continues to support Andreas Georgiou and his colleagues. We will not resile from that support. As past leaders of the statistical community we join others, including many Nobel Laureates, in calling upon the Greek State to stop this injustice.
We also call on the European and international partners of the Greek Government, who are reliant on accurate deficit and debt statistics, to take whatever steps are necessary to address the fundamental contradiction of providing for their assistance to Greece on the basis of statistics that are repeatedly challenged at the highest level of the Greek Judiciary. 
Media covering note: 80 Former Chief Statisticians Condemn Prosecution of Andreas Georgiou
SIGNED BY 
Katharine G Abraham
     Former Commissioner of US Bureau of Labor Statistics and Director of the Maryland Centre for Economics and Policy
Tomas Africa
     Former Administrator, Philippine National Statistics Office and Director of the Statistical Institute for Asia and the Pacific
Masato Aida
     Former Director General Statistics Bureau of Japan and Vice Chair of the UN Statistical Commission
Ola Awad
     Former President International Association for Official Statistics, President Palestine Central Bureau of Statistics
Richard Alldritt
     Former Director General for Regulation, UK Statistics Authority
Vince Barraba
     Former Head of the US Census Bureau
Misha Belkindas
     Managing Director, ODW Consulting and former Manager Development Data Group, World Bank
Luigi Biggeri
     Emeritus Professor of economic statistics at the University of Florence (Italy) and former Vice-president of International Statistical Institute (ISI), President of International Association of Survey Statisticians, President of Italian Statistical Society and President of Istat, the National Statistical Institute of Italy
Jean-Louis Bodin
     Inspecteur Général de l'INSEE Honoraire, former ISI President, former IAOS President and Adviser of the President of the French Statistical Society for human rights and scientific freedom issues
Marie Bohata
     Former Deputy Director General Eurostat, Senior Researcher at Economics Institute, Academy of Sciences, Czech Republic and Chair of the Society for Ethics in Economics, Business and Administration, Czech Republic.
Heinrich Brüngger
     Former Director, Statistics Division,United Nations Economic Commission for Europe
Jack Buckley
     Senior Vice-President American Institute for Research
Gary Carusu
     Former Administrator, US Energy Information Administration
Paul Champsaur
     Former Director-General, INSEE, France
Musaemura Guest Charumbira
     Former Director General Statistical Office of Botswana and former Chair of the UN Statistical Commission
Cynthia Clark
     Former Head of the US National Agriculture Statistical Service
Len Cook
     Former National Statistician of the United Kingdom, former Government Statistician of New Zealand, and former Vice President of the International Statistics Institute
Jean-Philippe Cotis
     Former Director-General, INSEE, France
Willem de Vries
     Former President of the International Association for Official Statistics and former Deputy Director of UN Statistics Division
Emerson J Elliot
     Former US Commissioner of Education Statistics
Katherine Smith Evans
     Former Head of the US National Agriculture Statistical Service
Jan Fischer
     Former President of the Czech Statistical Office
Andrew Flatt
     Former Director, Statistics Division, United Nations Economic and Social Commission for Asia and the Pacific
Yves Franchet
     Former Director General, Statistical Office of the European Communities (Eurostat)
Hing Wang Fung
     Former Commissioner for Census & Statistics, Hong Kong Special Administrative Region Government
Paolo Garonna
     Secretary general, Italian Banking and Insurance Federation, former Director of the Statistical Division, Deputy Executive Secretary and Interim Executive Secretary at the UN Economic Commission for Europe
Donal Garvey
     Former Director General, Central Statistics Office, Ireland
Erica Groshen
     Former Labour Commissioner and former Head of the US Bureau of Labour Statistics
Hermann Habermann
     Former Chief Statistician of the United States and former Director of the UN Statistics Division
Peter Hackl
     Former Director General of Statistics Austria
Johann Hahlen
     Former President of Destatis, Federal Statistical Office Germany 
Jay Hakes
     Former Administrator, US Energy Information Administration
Fred Ho
     Former Commissioner for Census and Statistics, Hongkong
Tim Holt
     Former Head of UK Government Statistical Service, former President of the Royal Statistical Society
Carlos M Jarque
     Former Chairman UN Statistical Commission, Director of ISI, former Vice President ISI, former President Instituto Nacional de Estadistica y Geografia (INEGI) of Mexico, and former Minister of Social Development of Mexico
Heli Jeskanen-Sundström
     Former Director General of Statistics Finland and former President of the International Association for Official Statistics 
Shigeru Kawasaki
     Former President of the International Association for Official Statistics, former Director General of Statistics Bureau of Japan and former Chair of the UN Statistical Commission
Niels Keiding
     Professor at University of Copenhagen and former President of the ISI
Irena Križman
     Former Director-General of the Statistical Office of the Republic of Slovenia, former Vice- President of the ISI and former President of the International Association for Official Statistics 
Jae C. Lee
     Professor Emeritus, Korea University and former President of ISI and International Association of Statistical Computing
Pali Lehohla
     Former Statistician-General, South Africa, former Vice-President of the ISI
Denise Lievesley
     Former President of the ISI and the International Association for Official Statistics, former Director of Statistics at UNESCO, former President of the Royal Statistical Society
Olav Ljones
     Former Deputy Director General Statistics Norway and former President of the International Association of Official Statistics
Carlo Malaguerra
     Former Director General of the Swiss Federal Statistical Office and former Chairman of the Conference of European Statisticians
Risenga Maluleke
     Statistician-General, South Africa
Pilar Martín-Guzmán
     Former President of the National Statistical Institute of Spain, former Vice -President of the ISI, former President of the International Association for Official Statistics
Jil Matheson
     Former UK National Statistician and former Chair, UN Statistical Commission 
Donal Murphy
     Former Director General, Central Statistics Office, Ireland
Vijay Nair
     Donald A. Darling Professor Emeritus of Statistics, University of Michigan and former President of ISI and International Society for Business and Industrial Statistics
Blagica Novkovska
     Former Director of the State Statistical Office of the Republic of Macedonia
Barry Nussbaum
     Former Chief Statistician, US Environment Protection Agency and former President of the American Statistical Association
Gerry O'Hanlon
     Former Director General, Central Statistics Office, Ireland
Jozef Olenski
     Former President of the Central Statistical Office of Poland
Oleksandr Osaulenko
     Former Head of Ukrainian Statistics
Edvard Outrata
     Former President of the Czech Statistical Office
Mario Palma
     President of the International Association for Official Statistics (IAOS)
Stephen Penneck
     Former Director General of the Office of National Statistics, UK and former President of the International Association for Official Statistics
Tom Petska
     Former Director of Statistics at the US Inland Revenue Service
Brian Pink
     Former Australian Statistician, New Zealand Government Statistician and President of the International Association for Official Statistics
Jan Plovsing
     Former National Statistician and Director General of Statistics Denmark
Priit Potisepp
     Former Director General, Statistics Estonia
Ken Prewitt
     Former Head of the US Census Bureau
Peter Pukli
     Former President, Hungarian Central Statistical Office 
Walter J. Radermacher
     Former Director General Eurostat, and former President of Destatis,  Federal Statistical Office Germany 
Martha Farnsworth Riche
     Former Head of the US Census Bureau
Phillip Rones
     Former Deputy Commissioner, US Bureau of Labor Statistics
William J Sabol
     Former Director of the US Burau of Crime Statistics
Dieter Sarreither
     Former President of Destatis, the Federal Statistical Office of Germany
Fritz Scheuren
     Former President of the American Statistical Association and Director of Statistics at the Inland Revenue Service
Pedro Luis N. Silva
     Principal Researcher, Instituto Brasileiro de Geografia e Estatstica, and former ISI President
Wayne Smith
     Former Chief Statistician, Canada
Hallgrimur Snorrason
     Former Director General of Statistics Iceland, former President of the International Association for Official Statistics and Vice President of the ISI
Eduardo Sojo
     Former President of the National Institute for Statistics and Geospatial Information of Mexico
Jef Teugels
     Former President of the ISI
John H Thompson
     Former Head of the US Census Bureau
Dennis Trewin
     Former Australian Statistician, and former President of the ISI, International Association of Survey Statisticians and the Statistical Society of Australia
Gosse van der Veen
     Former Director General Statistics Netherlands, former Chair of the ESS Partnership Group
Ada van Krimpen
     Executive Director, International Statistical Institute
Dragan Vukmirovic
     Former Director General of Serbian Statistical office
Katherine K. Wallman
     Former Chief Statistician of the United States, Chair of the UN Statistical Commission and former President of the American Statistical Association
Ron Wasserstein
     Executive Director of the American Statistical Association
Janusz Witkowski
     Former President of the Central Statistical Office of Poland
18 June 2018